Words can't express the way my heart almost jumped out of my chest when Kevin called
to tell me he spotted my hand-made bustier on Nicki Minaj
in the August 2010 issue of Black Men Magazine!
Yes ladies and gents, she's rockin' the hell out of my designs! lol
My speech was a bit flustered since I couldn't come up with anything to say,
so I just blurted out a scream of joy instead. lol
And the first chance I got, I rushed down to Barnes & Noble
to snag what came to be their last copy of the mag.
Ms. Harajuku Barbie herself looks quite fierce in her 20-page spread, toting guns and putting the medal to the medal on tricked-out motorcycles.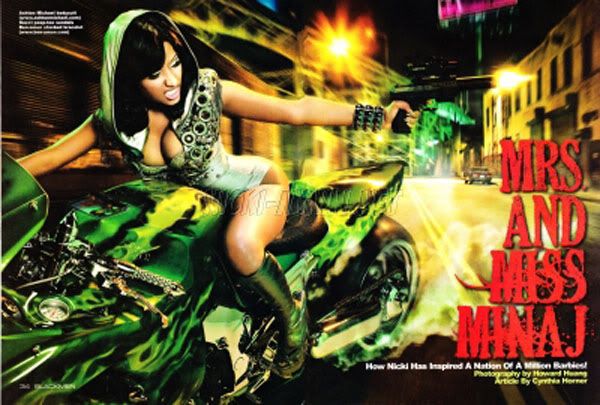 I must give a HUGE shoutout to my friend and amazing celeb wardrobe stylist Mr. Bradshaw for putting my clothes in good hands!
Aaaah! I'm still excited! lol
Now things can go nowhere but up!
Watch out!!!! ;)